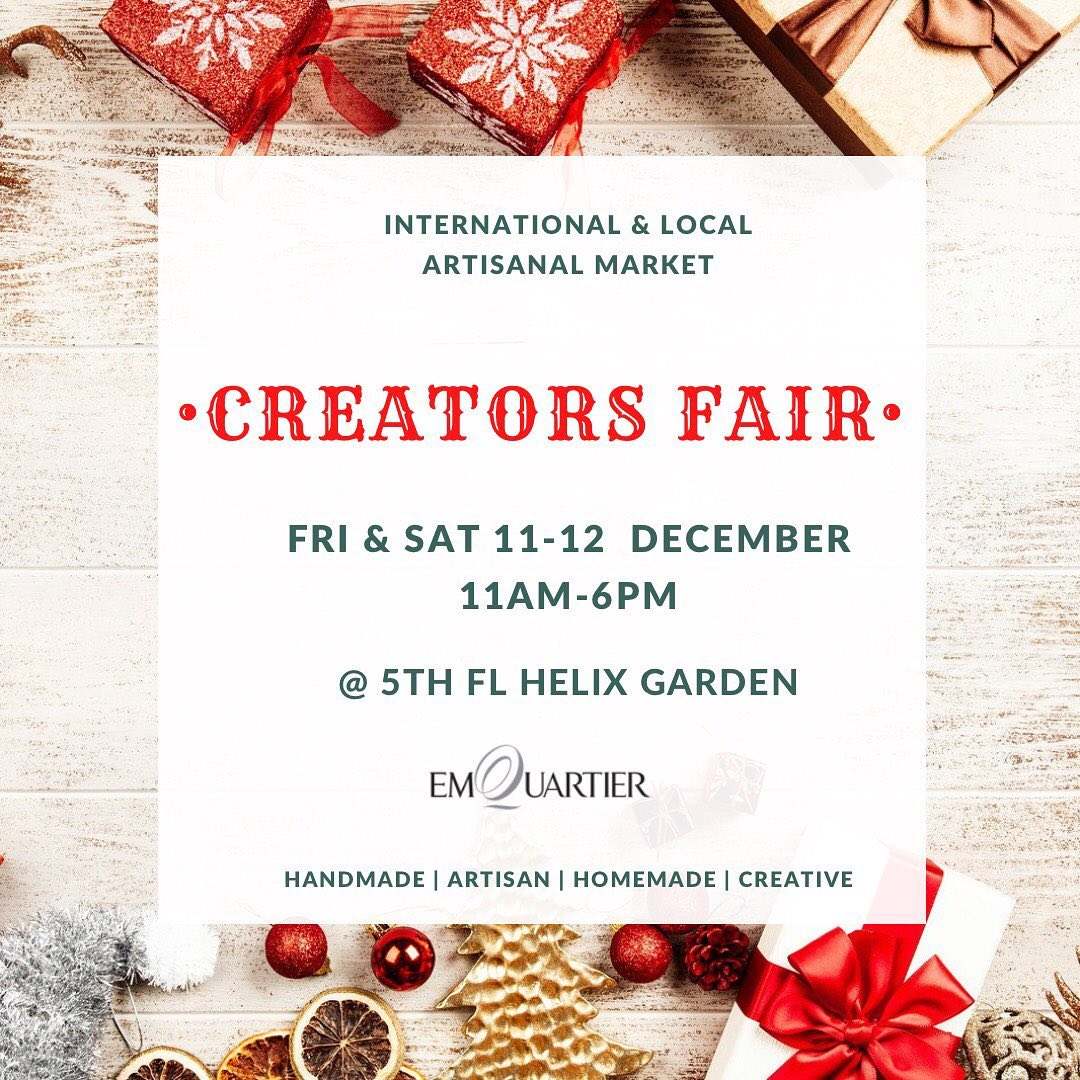 Creators Fair
International & Local Artisanal Market – Handmade, Homemade, Innovative creators will be found at the Creators Fair SPECIAL CHRISTMAS MARKET 
When: 11am-6pm 11th (Fri) & 12th (Sat) December
Where: EmQuartier Garden Event Space – 5th Floor of Helix.
Perfect christmas presents for all ages, ethical fashion, artisan deco, natural skin care, healthy & international world cuisine, fresh veggies from local communities, artisan coffee stand, creative workshops and much more…
Come join this event to find quality Christmas Gifts and to discover new artisan products! Enjoy a delicious lunch, and create something beautiful during one of the workshops.
Workshop Schedule to be posted soon. Like and Follow us to be the first on to know!
ตลาดงานฝีมือท้องถิ่น – งานแฮนด์เมดโฮมเมดจะพบได้ที่ Creators Fair SPECIAL CHRISTMAS MARKET
เวลา: 11.00-18.00 น. 11 (ศุกร์) & 12 (เสาร์) ธันวาคม
สถานที่จัดงาน: เอ็มควอเทียร์การ์เด้นชั้น 5 Helix
ของขวัญคริสต์มาสที่สมบูรณ์ สำหรับทุกเพศทุกวัยแฟชั่นที่มีจริยธรรมการตกแต่งแบบอาร์ตติสสกินแคร์ที่ทำมาจากธรรมชาติ อาหารเพื่อสุขภาพและอาหารนานาชาติผักสดจากชุมชนท้องถิ่นร้านกาแฟช่างฝีมือเวิร์กช็อปสร้างสรรค์อีกมากมาย!
มาร่วมงานนี้เพื่อค้นหาของขวัญคริสต์มาสคุณภาพเยี่ยมและค้นพบผลิตภัณฑ์ใหม่ ๆ จากช่างฝีมือ!
รายการเวิร์กชอปจะโพสต์เร็ว ๆ นี้ กดไลค์และติดตามเราจะได้ไม่พลาด!